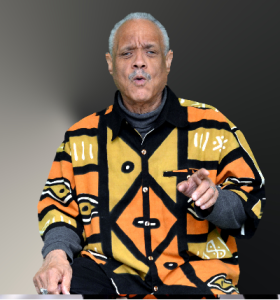 Sumner McClain
was born in Boston and grew up in in Cambridge Massachusetts. He has been known throughout the greater Boston areas as a Master Storyteller, musician and actor. He has served as an instructor and director of dramatic arts. He received a Master's in Social Work from the University of Michigan and was a recipient of the Martin Luther King Jr. Scholarship at Boston University where he earned a Master of Divinity degree.
Mr. McClain has been a METCO (Metropolitan Council for Educational Opportunities) Director and Social Worker for many years serving the needs of young people and their families.
Mr. McClain has performed at hundreds of schools, libraries and colleges throughout New England and abroad. He has appeared on Boston television programs and worked with the Peoples Theatre Inc., New African Company and The Elma Lewis School of Fine Arts. He has directed plays and has taught drama to adults and Children
Sumner learned early in life about the power of storytelling to heal wounds and increase pride. He believes storytelling to be a unique resource for building self-esteem. His stories show an appreciation for differences, stimulate curiosity, imagination and the celebration of life.