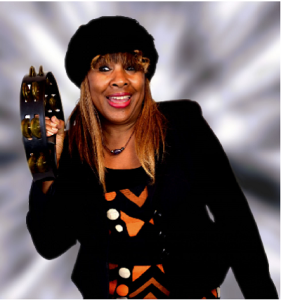 Linda Eubanks-McClain
(also known as "Mama Linda")   was born and raised in Roxbury  Massachusetts.
She is well known as a Master Storyteller/Performing Artist in the Boston, New Orleans, Virginia and Maryland areas.
Linda has also performed in
Jamaica, Ghana, Tanzania and
Honduras.
Linda is a graduate of the Wellesley METCO Program (Metropolitan Council For Educational Opportunities) and an Alumni of the Elma Lewis School of Fine Arts in Boston, Massachusetts.
She obtained further training in the performing arts through the LSU Artist/Teacher Institute (NOLA),
Act I/ Ethiopian Theatre Company (NOLA) and as a classroom teacher with the Wolf Trap Artist In Residence Program (Reston, VA.).
She received her BA degree from Tufts University in Early Childhood Education and a Master of Education in Curriculum Development/Management from Cambridge College.
Linda incorporates her expertise as a storyteller, performer/puppeteer and educator to provide comprehensive training programs for teachers, parents, and community agencies.
While living in New Orleans and Northern Virginia respectively, Linda founded and directed The Children's Performing Arts Ensemble who performed at the New Orleans Jazz and Heritage Festival and the Apollo Theatre in New York.
Linda also performs "One Woman" shows depicting the lives of renowned women through narration, the playing of percussion instruments and liturgical dance. She has been featured on Public / Community television, radio and Community Festivals.
Linda Eubanks-McClain is also a wife, mother, and grandmother whose
passion is to leave a legacy of storytelling as an instrument for healing and
celebrating life.